Micro-Stamping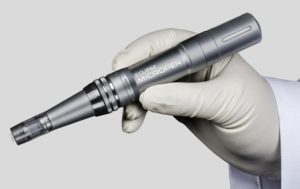 How does Medical Micro-Stamping work?
The micro-stamping device penetrates the upper layers of the skin to create numerous tiny needle wounds. The procedure prompts the body to respond through the creation of new collagen and elastin fibers. In response to the stimulus, the skin plumps and thickens, reducing the appearance of scars, fine lines and wrinkles.
What conditions can be treated or improved with Medical Micro-Stamping?
Mild to moderate acne scarring; any new or old scars
Fine lines and wrinkles;
Loose, lax skin;
Skin texture and pore size
Stretch marks
What will I look like after Micro-Stamping?
After a micro-stamping session, most people will experience redness and mild swelling in a similar way as mild sunburn for 24-48 hours and there may be minimal pin-point bleeding and/or bruising. Within a week or two, you will notice that your skin is smoother and more radiant looking but the full effects won't be seen until a few months later.