PK Aesthetics offers facial skin care treatments that address our client's individual needs.  With extensive knowledge of skin biology, we provides our client's with the expertise in customizing your skin treatments and mapping a systematic approach to obtain your desired results.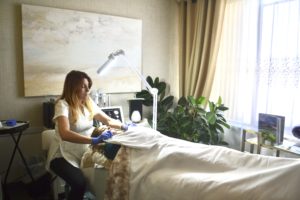 Though facials are commonly thought of as a form of pampering, the skin treatment is not simply a frivolous luxury. The many benefits that facials have on your skin make it a treatment worth investing in.  Facials have been used for generations as ways to detox and that's still one of their biggest benefits. Every facial will start with a deep and thorough cleansing of your skin (sometimes with multiple cleansers) and many will include steam, which opens up pores and softens deep-down dirt so it can be removed more easily.  Here at PKA Skin Center, LLC, we foster the concept of aging gracefully through cellular rejuvenation and care. Utilizing effective natural techniques, along with modern technology to provide results for common skin concerns, repairing your glow with our customized nurturing experiences.
Today starts your journey to a more beautiful, glowing and healthy skin.
Ultrasonic with Sonophoresis
This is the best combination. The ultrasonic uses sound waves in conjunction with water, to give the best peel without the irritation of acid or crystals. The Ultrasonic is also considered a sanitizer, which is the perfect treatment for people suffering from acne or rosacea. This treatment also makes manual extraction virtually obsolete.
It can unclog pores and even cysts, killing bacteria as it goes. Sonophoresis is used to push in specialized products, antioxidant/peptide creams, and serums deep into the skin. These are pushed deep into the skin for optimum skin rejuvenation. Great for all skin types. Truly amazing!
Custom Facial
Antioxidant Facial
Your skin is your largest organ, so it is important to take care of it. Antioxidants protect skin by limiting the production of free radicals, which can damage skin cells. Antioxidants in skin care products can do a lot for the health and appearance of your skin, including reducing the signs of aging. From calming inflamed skin to tightening and toning, antioxidants offer great benefits from natural sources.  Our antioxidant facial is formulated to help turn back the hands of time.
Men's Facial
Facials for men are specifically formulated to male needs, which are often shaving-related, such as razor burn, or other conditions like skin sensitivity and dullness. The facial targets skin roughened by spending time in the great outdoors and ones that are tailored to acne, excessive sweating, living in a city, and skin conditions related to aging.