Elos® Sublative Technology?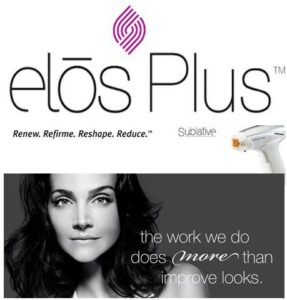 This type of Elos® treatment is perfect for diminishing wrinkles and fine lines and can also help the appearance of acne scars.  Sublative treatments work to correct various textural problems and tighten the skin as well. Elos® is very safe for all types of skin and requires little to no downtime for recovery.
Elos® Plus Sublative Skin Rejuvenation
This special technique does not employ the use of a light or laser. Instead, it utilizes bipolar radio frequency technology in order to effectively revitalize skin, usually in just four or five quick treatments.
Elos® Sublative Skin Rejuvenation works to improve the following:
Skin imperfections and lesions
Fine lines and wrinkles
Acne scarring
Sagging skin
Dark under eye circles
Elos® Sublative Skin Rejuvenation deeply penetrates skin in order to boost your body's collagen production without affecting the top layer of the skin, which is precisely why the overall recovery time is so short.
What to Consider before Getting Treatment
Before getting treatment, it's crucial to avoid tanning and sun exposure for at least 2-4 weeks to achieve optimal results. While most patients notice immediate results after just one treatment, the skin will keep improving as long as six months later following treatment. This is primarily due to the collagen reproduction in the skin.
Elos® SRA Skin Treatments            
Elos® has the ability to combine the power of both light and bipolar radio frequency energies. This unique method enables the treatment to lighten and eventually fade noticeable skin imperfections for virtually all types of skin and is used to improve the following:
Age spots
Sun spots
Freckles
Redness related to Rosacea
Spider veins
Visible Results
Because every patient is different, the actual number of treatments will vary according to the specific condition of their skin. Most patients notice visible results over time, typically within 2-6 treatments.
Who is a Good Candidate for Elos® Plus Laser Treatment?
If you have any of the following skin conditions, you may be an ideal candidate for Elos® treatment:
General redness
Uneven skin tone
Large pore size
Any of the conditions previously mentioned such as spider veins and age spots
You'll have to wait to receive Elos® treatment if you've tanned excessively within the last two weeks or if you're pregnant or nursing. Also, this treatment isn't ideal if you have certain medical conditions including HIV, poorly-controlled diabetes, or shingles on your face. Before treatment, you'll need to submit your full medical history to ensure your general safety.
How Long Do the Results Typically Last?
While the results aren't permanent, your lifestyle is a big factor in how long the results will actually last. For instance, if you smoke or spend a great deal of time in the sun it will inevitably cause a certain degree of damage to your skin. In order to lengthen the results of your Elos® treatment, develop an ideal skin care routine at home as well as maintaining follow-up treatment once a year for best results.
Contact PKA Skin Center today to schedule your consultation. We'll help determine the most appropriate treatment for your needs.